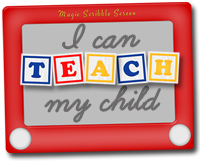 I am guest blogging today over at I Can Teach My Child. Jenae's blog is one of my favorites for finding ideas to do with my kids. I love her passion for teaching and how she strives to make the most of each precious day with her two boys.
Jenae inspires me. She always has. I met Jenae in college and we took several elementary education classes together. Not only was she one of the nicest people I have ever meet, Jenae also had the most creative ideas and took time to make sure each project she completed was perfected. She motivated me to go the extra mile with my own projects and was such a fun person to work and teach with.
Today I shared an idea of how I want to teach my children to be disciplined in their routines (which is another one of my goals for 2011). You'll have to go over to
I Can Teach My Child
to check it out, but here's a sneak peak of us completing one of our morning chores:
Thanks for inviting me, Jenae!